Tri-Mer provides turnkey engineering, manufacturing, installation, and service for its Catalytic Filter Systems.
Modern semi-automated precision steel fabrication as well as polypropylene manufacturing is housed at the facility, along with engineering, project management, and corporate functions. Visits are encouraged.
Housing modules are manufactured at the Tri-Mer factory in Michigan and sized for convenient shipping. In the field, the sections are lifted by crane and assembled. Filters are then installed by Tri-Mer personnel. The top section is a walk-in plenum for easy, clean maintenance access in all weather; middle section is filters; bottom section is the collection hopper with internal screw conveyor to a rotary or slide gate valve discharge.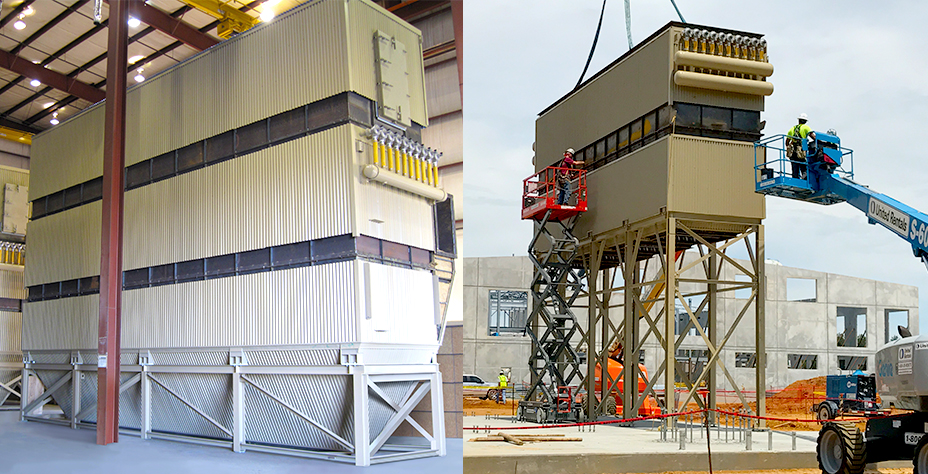 The unexcelled performance of the technology and the quality of project delivery – within budget and on time even with compressed schedules -- is the bedrock of Tri-Mer customer satisfaction. Multiple projects with established customers are the core of the business. With an emphasis on technology innovation, development and commercialization, Tri-Mer has added several new technologies – including the widespread application of the ceramic filters -- to the arsenal of pollution control options. Tri-Mer Corporation understands the importance that progressive companies place on state-of-the-art technology, accurate engineering, precision manufacturing, and on-schedule installation and start-up.
With a rapidly growing commercial base in the U.S., Tri-Mer Catalyst Filter Systems provide a way to master many of the difficult situations faced by owners, operators, and consultants in meeting air pollution control regulations.
Tri-Mer offers these turnkey systems and services:
Pilot testing, if necessary
Pollution system design & engineering (mechanical, electrical, civil, structural)
Site work, civil, demolition, and prep construction
Integrated ceramic catalyst filter systems

Base system of filters and housings
Dry Sorbent Injection for SOx, HCl
Ammonia Injection for NOx
Waste Handling
CEMS and Controls

Regulatory Agency support
Installation services
Performance guarantees
Aftermarket service